The Fast & Cost-Efficient Way to Start Selling Pet Insurance
Whether your insurance aims to be mono or multi-pet, individual or group, national or international - we've got you all covered
Join insurance leaders who use Cloud Insurance in 25+ countries on five continents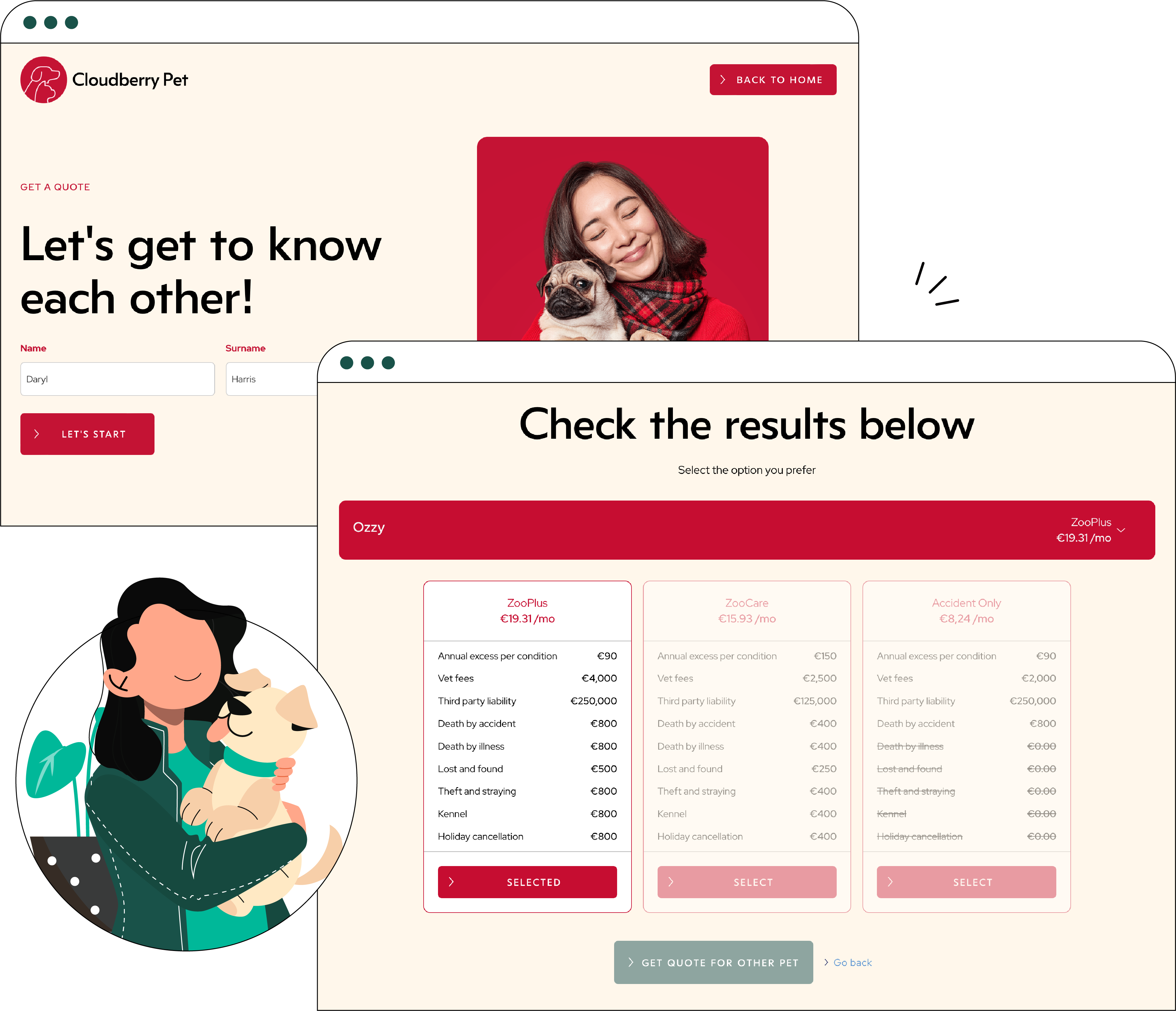 Complexity is not a problem
Got a complex idea? We'll help you turn it into a simple, 100% digital experience. We mean it! With Cloud Insurance, you'll bring your user flows to life. Automate your quotes, policies, claims and renewals, billing, reporting, and distribution. Our modular SaaS with API integrations enables you to:
Shape a unique offering to make your product stand out
Attract tech-savvy consumers looking for a digital service
Create a user-friendly product discovery process
Win and retain clients
Gain market share
Leverage the momentum
Many tech vendors prioritize larger companies with high paychecks. They make you wait in line and are less flexible. They simply don't get that organizations like yours are the driving force behind the market transformation.
We won't make you wait as we're excited about your innovation! So let's design a system that meets your requirements. Here's what enables us to make it shine above the rest:
Unique features developed for your particular case
Library of customizable ready-made pet templates to speed things up
High-quality APIs to help you build a robust tech ecosystem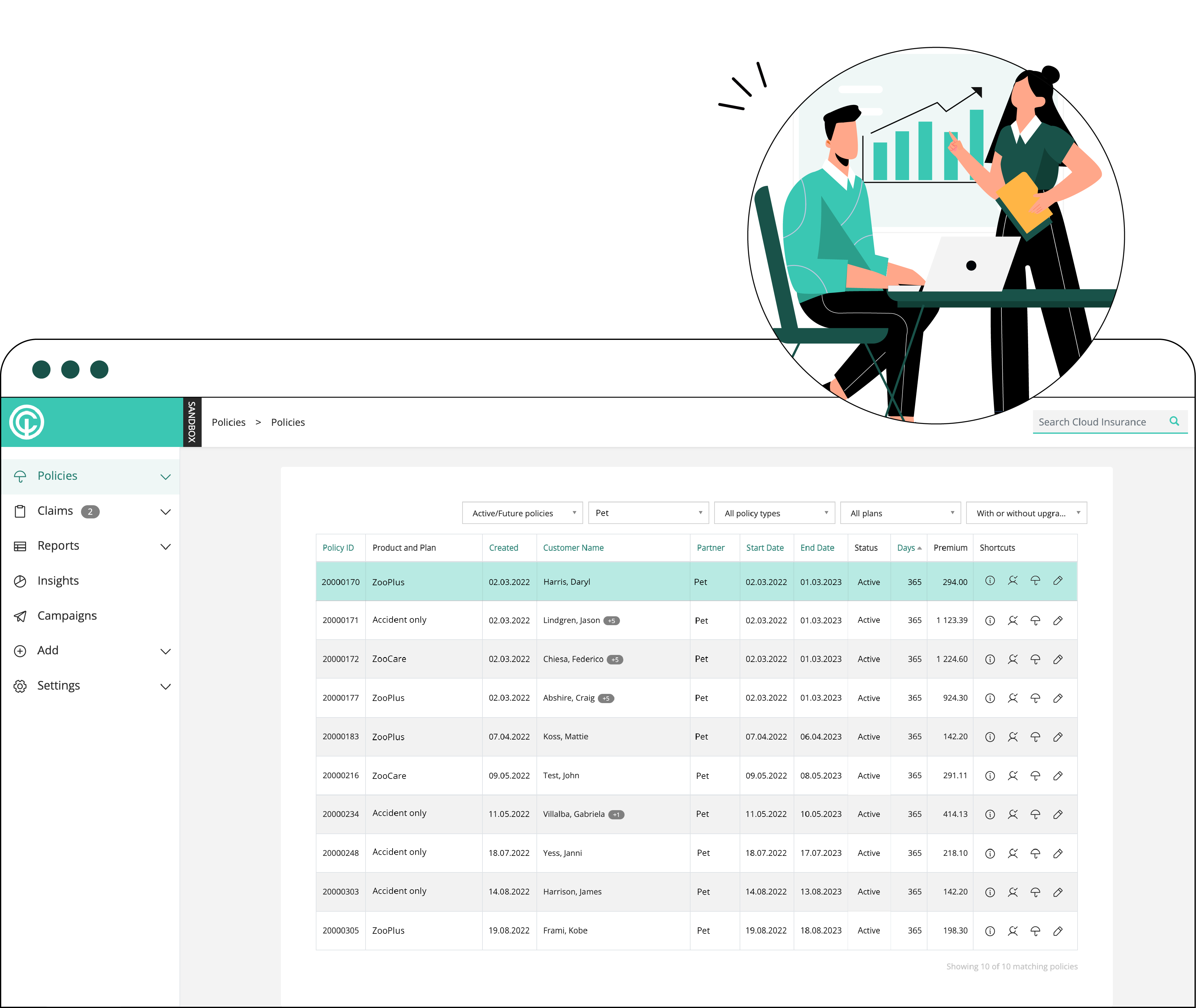 Please don't take our word for it. See it in action!
Time is of essence. Spend it wisely by taking a deep-dive into our system. Not only will this investment support your current goals, but it will pave the way to your future growth.
Accommodate different languages, currencies, and regulations

Enhance your tech with our product enhancements

Get support from committed experts who have done it before
Plan your next move with real-time data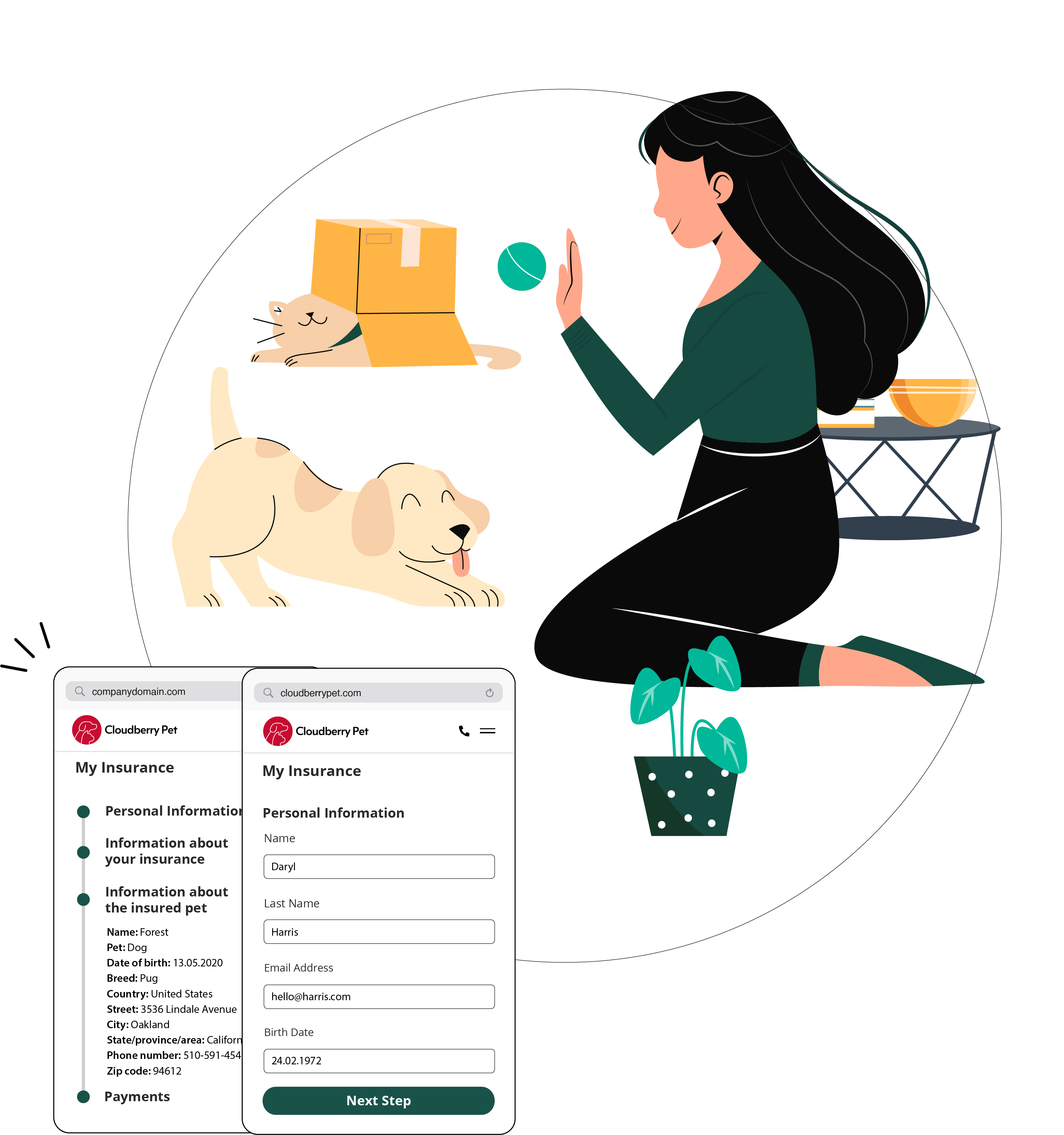 "We had a relatively complex product. [Now], the user just needs to answer eight questions, and in 15 clicks or so, have a pet insurance product with three separate coverages. We couldn't have done it without the flexibility that Cloud Insurance offers. It's a very complicated product sold in a very simple manner, and that's something we're very proud of."
"It's important to be an innovator and drive new solutions for our potential niche and target group. To reach that, we needed a partner that is flexible, open-minded, and is looking for new solutions themselves on the market."
"It was the

flexibility of the Cloud Insurance system and the high level of professionalism

in the team that convinced us. They know what they're doing not only on the technical side but also on the insurance business side."
"From the specs and requirements we set, Cloud Insurance was able to provide everything and

tailor the things not only for our launch but also for the long-term

."